Daily Detox

Daily Detox. . . . . . with time released oxygen
a.k.a. Regularity Rx™
Manufactured for Impax Therapy High Impact Nutrition San Francisco, CA 94107
The Revolutionary Oxygen Formula
Daily Detox promotes healthy bowel function – NATURALLY!
The secret to great health can be described in three words – Cleanse Your Body!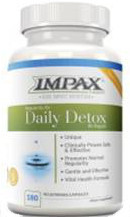 Clinically Proven!
Benefits:
Easy to use for daily regularity
Fast acting stool softener
NO harsh stimulate laxatives
Targets only "bad" bacteria
Promotes weight loss
Strengthens immune system
Releases oxygen throughout the body for up to 12 hours
Why Impax Therapy Daily Detox Is Different From Other Cleansing Formulas?
There is no doubt that a diet high in fiber is ideal for the health of the gastrointestinal tract. However, there are many people who cannot tolerate high fiber diets. Often, the people who need high fiber diets the most, cannot tolerate large amounts of fiber due to food intolerances, digestive insufficiencies, or have an overly sensitive, inflamed, and damaged bowel wall. In fact, when advised to increase their fiber intake, many people experience an increase in unpleasant symptoms. High fiber intolerance might manifest in increased bloating, gas, loose bowels, abdominal pain and cramps.
Magnesium oxide, on the other hand will cleanse the bowel without the irritating effects of fiber that many people experience.
Impax Therapy Daily Detox is an oxygen-based colon cleanser that melts away compacted matter in the colon through an oxidation reduction reaction. Impax Therapy Daily Detox oxygen-based colon cleanser is packed full of specialized ozonated magnesium oxides to reduce the solid toxic mass in the colon into a liquid or gas form. Once ingested, a chemical reaction causes oxygen to be released and transported throughout the body. The ozonated magnesium oxides cleanses the entire intestinal tract and delivers much needed oxygen along the way. The ingredients in Impax Therapy Daily Detox have been thoroughly tested and are safe to take on a regular basis. Impax Therapy Daily Detox does not cause uncomfortable bloating or have harsh effects on your system. It is not habit forming and you will not be running to use the restroom because of it.

Impax Therapy™ – Daily Detox is the most advanced natural product for proper bowel function!
Testimonials for Impax Therapy™ – Daily Detox
"I've had an issue with regularity for years and when I travel its worse. I typically go every three days, on a trip sometimes its four or five, or I go ever so slightly. I have taken over-the- counter laxatives and that produces gas, bloating, cramping and diarrhea, nothing is normal.
I took one Impax Therapy – Daily Detox with the recommended amount of water and continue to do so each evening. I never thought I would use the words Blessed and Poop in the same sentence. But let me tell you I am so Blessed to Poop! I have not experienced any gas, bloating or cramping and NO diarrhea! Its normal and I am going a couple of times a day. Amazing! I just wanted to say a Big Thank You! I know this will not be an area of concern for me in the future as long as I have my Impax Therapy – Daily Detox."
K. Stover, Northern CA
####
"Since first using Impax Therapy – Daily Detox, I have continued to use the product as described and have noticed that I am now going every 1-2 days instead of 3-4 days. I feel so much better and not bloated like I used to feel. I have also lost 2 pounds, gross huh, but it's working."
C. McCargar, Fairfield, CA
####
"I am happy to report that things are moving great! I was very surprised that when I took the first capsule one evening about 10:00PM, a couple of hours later, around midnight I had a bowel movement. I took two capsules with breakfast around 8:30am the next morning. I was able to have regular bowel movements the entire day, shortly after each meal. The wonderful thing is I had no cramping at all. I will not be without this amazing product!"
D. Bates, Madison, MS
####
"In the past week I have had some issues with constipation so I tried Impax Therapy – Daily Detox. This is truly a winning product. The experience was exhilarating. I had movement within a very short time after taking the product. It was easy and natural and I feel cleansed and relieved. Thank you for this!"
R. Buckley, Grass Valley, CA
####
"It's taken my body a little longer to get "moving" again. Traveling is so hard on my system. Just last night I started to move again… and man, what a relief. I didn't want to start on the day we were flying so I started the day I arrived home. At first I tried 1 capsule and then upped it to 4 per day right now and it's working!!! It's a gift from above."
D. Doucette, Delavan, WI