Veto the Bully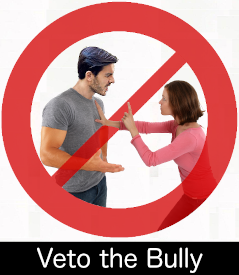 The Quickest Way to Stop a Bully in His Tracks!
Have you ever wondered why some women so easily stand up for themselves and others cower in the face of confrontation? If your tendencies are to get frazzled and react, you can't change this on your own, let us help you stand up for yourself and take charge and VETO THE BULLY!
I know from working with so many women who are going through a break-up, divorce, or women on the other side of a break-up or divorce and are still deeply involved with their ex because of children, business ties etc., that virtually all of them are concerned about the effects of bullying – and not just for themselves – bullying has a ripple effect; the impact doesn't just stop on the woman alone, the truth is – it transcends to their children as well!
One of the greatest myths is that bullying occurs to only those who exhibit low self-esteem or who may be shy or introverted. This is not always true. In my experience, many of my clients are highly professional, clever, articulate women with decades of work history behind them.
Life can be so crazy and unfair … so, what makes the difference between living a nightmare and happiness?
On one hand, there are those who's life is basically a living hell even though they have moved away from the bullying situation, and perhaps feel instantly better, but the truth is – in the eyes of a bully, nothing is fair unless it goes exactly like they want it to. So – the living nightmare continues!
But then on the other hand, there are thoes who have found a solution.
I'm talking about women who own the tool to stop intimidation and feel empowered in any situation.
They're women who know who they are, know what they want, not fearful of going forward, trust their intuition and are confident in their decisions.
For those woman, they are the authors of their own life. They know they are worthy of living a full and inspired life … and … it's up to them to create it. For these women, the idea of not standing up and pushing back against an intimidator is a foreign thought.
In their world, they choose to remain steadfast – even when things don't work out as planned they have the emotional composure to combat adversity and remain unflinchingly empowered.
There's the thing, though …
Any woman who wants to be empowered and stand up for herself can own this skill and discover her inner warrior.
It's a skill, it's a tool that – – once you have it – – will put your destiny squarely in your own hands, for as long as you choose to use it. It's a balance – – embrace that there is a light and a dark, a feminine and a masculine, and a positive and a negative side to everything. You can be strong "and" vulnerable, gentle "and" harsh, defensive "and" trusting and drop the urge to explain yourself to anyone. It's easier than you think – keep in mind, the right tool for the job cuts the work in half!
A Chance to "Reinvent" Yourself
But more than anything else, it's an opportunity to "reinvent" yourself … and learn the valuable skill that will quickly empower you to embrace your greatness and change your life … forever.
Imagine discovering …
…that you're not weak, unimportant, inferior, powerless, unworthy … and all the other crazy words you can find to describe these feelings of disempowerment that bullies prey on … and … you are far more than you've ever imagined…
What's more, you can use this new skill in so many ways.
In the workplace – a quote from the book I Hate People, "bullies are only effective when they're on solid ground. Ground that you can take away." When you are in control of your emotions you can remain calm and rational and diffuse the situation.
In relationships – when you own the skill of teaching others how to treat you they will respect your personal boundaries and what you will and will not accept.
With children – disrespectful, bullying behavior is often a problem for parents with children but with the right skill it's much easier to be firm about the bullying behaviors and create a culture of mutual respect.
Leadership – if you positively impact one person's life, you impact the world. You never know where the ripple effect of any one small action will end … use the skill to empower yourself and in turn – empower others.
Once you have this skill – you can do and accomplish anything!
There will never be a better time to put your future squarely in your own hands – to master and truly own the lifechanging skill of self-empowerment and stop allowing anyone or anything to control, limit, repress, or discourage you from being unstoppable. No one can give it to you – you have to take it. You get to determine your own story and pave the way for your future. Live by the words of Ayn Rand – "The question isn't who's going to let me; it's who is going to stop me!"
This is a rare opportunity to learn this life–transforming skill, one that will reinforce your confidence and give you the emotional composure to really be in control of your own life, live the way you deserve to live without allowing others to control the outcome of your day, or any part of your future.
Discover how you can experience the joy of having the respect of those around you!
Take the bold step today and join the women who own the tool to stop intimidation and feel empowered in any situation. You can be invincible – too powerful to be overcome!
Get started today with – VETO THE BULLY for just $97.00 $47.00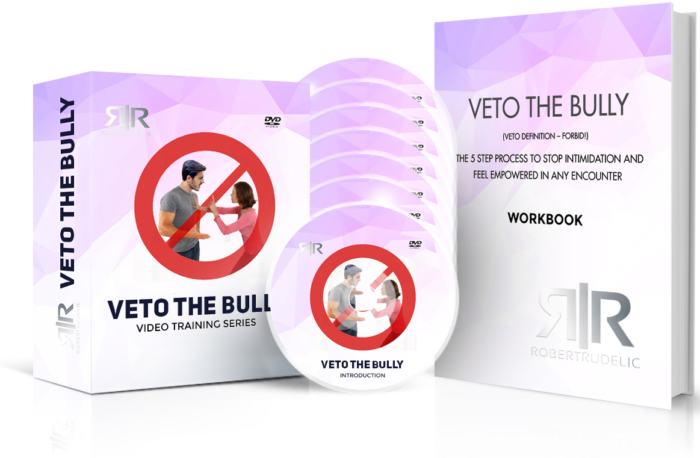 Video 1) Introduction, Video 2) Identify, Video 3) Prepare For Success, Video 4) Develop a Strategy,
Video 5) Delivery, Video 6) Reinforce Your Confidence, Video 7) Conclusion.
This program will teach you how to push back and discover your inner warrior!